Philips LEDspot LV G53 AR111 12V 20W 830 24D MASTER | Dimmable - Replaces 100W
Sold out. See alternative product
See now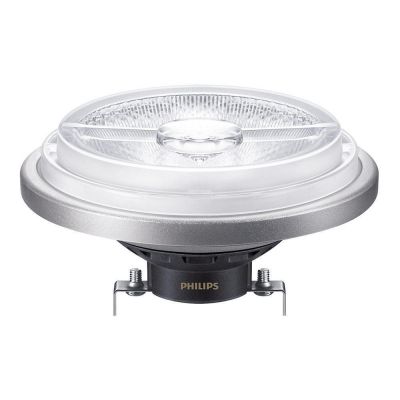 Specifications
Philips LEDspot LV G53 AR111 12V 20W 830 24D MASTER | Dimmable - Replaces 100W
Description
Philips LEDspot LV G53 AR111 12V 20W 830 24D MASTER | Dimmable - Replaces 100W
Philips produces LED lighting in different shapes and sizes. With the Philips LEDspot LV G53 AR111 12V 20W 830 24D MASTER | Dimmable - Replaces 100W, you combine top quality lighting with a very efficient use of energy. This is thanks to the fact that the Philips G53 LED spot uses LED technology. While the LED spot uses only 20W, conventional lighting uses 100W to achieve the same light intensity. You will therefore surely notice this difference in your monthly energy use. There are however other advantages. For example, the Philips LEDspot LED spot has a lifespan of 25000 hours and is labelled with energy label A+.
The Philips LEDspot G53 LED spot: Useful information
Is the G53 LED spot dimmable? Yes.
This G53 LED spot has a light output of 1200 Lumen.
It has a colour temperature of 3000K - Warm White.
Warranty and service
Budgetlight offers a warranty of 3 Years on the Philips LEDspot G53 LED spot. Do you have any questions regarding the G53 LED spot? Get in touch with us, we are always happy to help.
Reviews
No reviews for this product yet
Need help?
Contact our light specialists for free advice.