Osram SubstiTUBE T9 Circular EM MAINS G10Q 20W 865 | Replaces 32W
Sold out. See alternative product
See now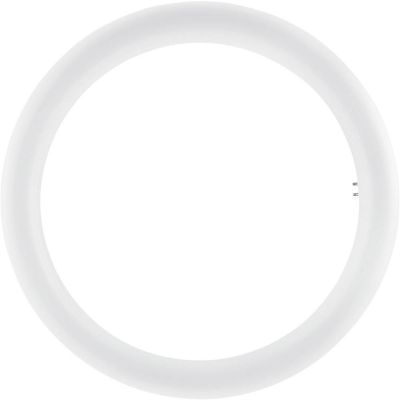 Specifications
Osram SubstiTUBE T9 Circular EM MAINS G10Q 20W 865 | Replaces 32W
Description
Osram SubstiTUBE T9 Circular EM MAINS G10Q 20W 865 | Replaces 32W
The Osram SubstiTUBE T9 Circular EM MAINS G10Q 20W 865 | Replaces 32W is the LED version for the conventional T9 circular fluorescent tube. This T9 circular LED tube of Osram is known for its circular tube. The advantage of the Osram SubstiTUBE T9 LED is that, due to the circular tube, light can be spread in an even way without any shadows. On top of that, the SubstiTUBE T9 tube is LED integrated, what ensures a longer lifespan and a much more efficient use of energy compared to the conventional T9. This way, the Osram LED tube lasts 30000 hours. Furthermore, the Osram LED tube only uses 20W to offer the same quality of light as its conventional counterpart that needs 32W for this.
This T9 LED tube of Osram is equipped with a G10q base and also has a diameter of 298mm. The T9 LED tube is produced by Osram, a top brand when it comes to lighting. You will therefore be ensured of quality! Are you interested in multiple quantities of the Osram LED tube or do you need advice? Don't hesitate to get in touch with us for advice or a quotation!
The Osram SubstiTUBE LED tube also offers:
A colour temperature of 6500K - Daylight
A beam angle of 123°
A warranty of 3 Years
All advantages of LED technology!
Reviews
No reviews for this product yet
Need help?
Contact our light specialists for free advice.