Osram Parathom Pin G4 2.4W 827 Clear | Replaces 30W
Sold out. See alternative product
See now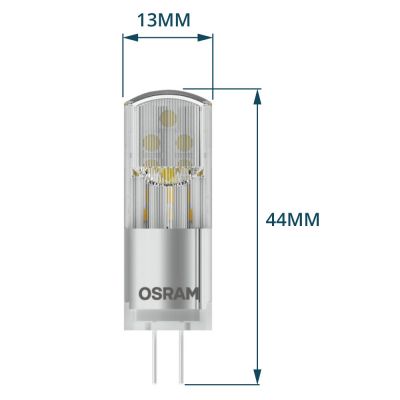 Specifications
Osram Parathom Pin G4 2.4W 827 Clear | Replaces 30W
Description
Osram Parathom Pin G4 2.4W 827 Clear | Replaces 30W
At Budgetlight, you've come to the right place for a large variety of lamps, from big to small. However, at Budgetlight you can also find very small lights. Due to its compact size, the Osram Parathom Pin G4 2.4W 827 Clear | Replaces 30W is perfect for small fixtures. Because the Osram LED capsule bulb is equipped with LED technology, this lamp is equipped with many benefits. For example, the Osram LED capsule bulb has a long lifespan with an average of 15000 hours. Because the G4 LED capsule bulb lasts so long, this will save you replacement costs. In addition, this Osram LED capsule bulb has a much lower use of energy. While conventional capsule bulbs use 30W, this Parathom LED capsule bulb only has to use 2.4W to achieve the same light output.
Good to know
The Osram G4 LED capsule bulb works on 12V. Furthermore, it has a colour rendering of 80-89 Ra and a light colour of 2700K - Extra Warm White. When replacing conventional lighting, it is always useful to check the dimensions of the new G4 LED light. This can vary from the conventional predecessor. If you are interested in multiple quantities, you can always reach the customer service for a quotation!
Reviews
No reviews for this product yet
Need help?
Contact our light specialists for free advice.