Multipack 6x Philips LEDspot ExpertColor G53 AR111 (MASTER) 11W 930 40D | Highest Colour Rendering - Replacer for 50W
Sold out. See alternative product
See now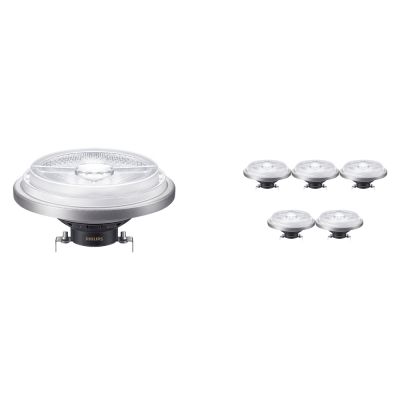 Specifications
Multipack 6x Philips LEDspot ExpertColor G53 AR111 (MASTER) 11W 930 40D | Highest Colour Rendering - Replacer for 50W
Description
Multipack 6x Philips LEDspot ExpertColor G53 AR111 (MASTER) 11W 930 40D | Highest Colour Rendering - Replacer for 50W
In the world of light, more and more attention is given to combining style and innovation. The Multipack 6x Philips LEDspot ExpertColor G53 AR111 (MASTER) 11W 930 40D | Highest Colour Rendering - Replacer for 50W is the perfect example. This LED vintage bulb by Philips has the look of a classic incandescent bulb, but enjoys all the benefits of modern LED technology. With this Philips G53 LED vintage bulb, you will be able to directly replace conventional lighting with a G53 base and save a lot of energy in the process.
Stylish and efficient
The Philips LED vintage bulb only uses 11W, while conventional incandescent bulbs and halogen bulbs use 50W to achieve the same light output. Furthermore, this Philips ExpertColor LED vintage bulb lasts 40000 hours. When the Philips LED vintage bulb eventually reaches the end of its lifespan, you will be able to recycle the LED light. This way, you will be able to help the environment!
What does the Philips LED vintage bulb with a G53 base further offer?
A light colour of 3000K - Warm White
Is this Philips LED vintage bulb dimmable? Yes
A light output of 620 Lumen
Budgetlight offers a warranty of for the Philips LED vintage bulb. Interested in multiple quantities? Our customer service is happy to make you a quotation!
Reviews
No reviews for this product yet
Need help?
Contact our light specialists for free advice.